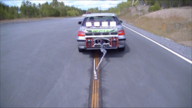 Elways develops a system that allows electric road vehicles to charge while driving, rather than having to stop and charge at a stationary location. This eliminates the present limitation of batteries and increases the range of electric vehicles. By electrifying main roads with the Elways solution, electric vehicles will operate more efficiently than current vehicles, both petrol and electric, as they will neither need to stop for charging nor stop to refuel.

Elways has developed cost effective solutions for all critical issues to charge both light and heavy vehicles while driving. Elways has evaluated and tested this concept every step of the way. The next step will be to perform a full-scale test demonstration with vehicles on an electrified road.

Elways has applied for twenty Swedish patents, seventeen PCT and so far thirty-nine international patents. Seventeen Swedish patents have been approved to date.

Two of the Elways' partners, Gunnar Asplund (CEO and founder) and Alf-Åke Jansson (board member and responsible for investor relations) both have had long and succesful careers at ABB in Ludvika.

High Voltage Valley is focusing on finding a suitable road for transport where the technology developed by Elways can be used. We co-operate with ITS Dalarna and Triple Steelix, and several small and middle-sized enterprises are involved in manufacturing rails and other components.

For more information about Elways, click here.